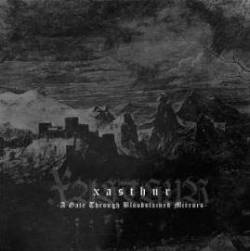 1. Intro
2. Moon Shrouded in Misery, Part 1 (Burzum cover)
3. Suicide in Dark Serenity
4. Dwell Beneath the Woods of Evil

5. Cursed Be the Memory of Light
6. Possession of Desolate Magick
7. Storms of Red Revenge
8. A Spell Within the Winds

9. Summon the End of Time
10. Gate Through Bloodstained Mirrors

11. Kingdom of Burning Crucifixions
12. Moon Shrouded in Misery, Part 2 (Burzum cover)
13. Black Spell of Destruction / Channeling the Power of Souls Into a New God

X = Xasthur. Now that the latest Xasthur record, Defective Epitaph, has been released, the world finally gets to hear Malefic get his black metal on without a drum machine. It's at once a removal of a core element of the Xasthur sound, and the addition of something that totally works in it's favor. That said, Malefic is probably the black metal world's foremost practitioner of drum machine programming. No man before and probably after will be able to make one-man-drum-machine-isolationist black metal as adroitly as he. I ain't gonna say that dude is the new Neal Pert/Hellhammer of BM, but he's no slouch.
So let's take a look at the root of this evil, shall we? A Gate Through Bloodstained Mirrors is the full length debut of the Xasthur horde, released way back in 2001. Although oft compared to Judas Iscariot, early Xasthur is a different animal. Malefic is extremely talented at creating "atmosphere", which is often assumed to be black metal shorthand for "bad production". The production here isn't Butch Vig, but that's not the point being made. The low fidelity works in his favor, drawing the listener in to discern exactly what's happening, heightening one's awareness of the subtleties. He's building a deeply depressing environment for his listeners through other worldly shrieks and howls, almost psychedelic guitar dissonance and using synths as more than just a "creepy" background, ala Vikernes (by the way, there's a two part Burzum cover here), and it's been working for him ever since. Xasthur has evolved a bit over the six years since this release, but the integral elements that make Xasthur Xasthur never change... they only get blacker.
Flooded:
Loaddown
Leave a damn comment, please.